What does the leadership personality look like that radiates enough wisdom, conveys security and is willingly followed?
Did you know that personalities receive significantly higher fees than trainers, experts and advisors?
Why do personalities rest so within themselves?
The answers to the above three questions can take you to a higher level I will explain this to you below.
Let's first look in a dictionary, there we encounter these explanations:
1. totality of personal (characteristic, individual)
qualities of a human being
2. a person with a distinctive individual character
3. someone who plays a leading role in social life.
Wikipedia says: The term "personality" has to do with the individuality of each person and usually refers to a life-experienced, mature person with distinct character traits.
From this we can see something interesting.
It is more about qualities than about doing and being able! This also corresponds to the result reported by Zig Ziglar. In a workshop, he asked what makes a good leader. A total of 107 criteria were collected. Then he had these criteria divided into characteristics and professional skills. The result surprised everyone, because it was very stark. Only 5 criteria were related to professional skills (being able to do). 102!!! Criteria were qualities that every person can live. For criteria such as honesty, openness, commitment, diligence, listening, integrity, etc.. you do not need any special professional training.
Benjamin Franklin knew this and considered 13 character traits important for himself, for his being. He then consciously adopted and lived these 13 little by little. He did this by taking on one characteristic at a time for a certain period of time until he had absorbed it into himself and lived it unconsciously. He did this successively with all 13. As is known, Benjamin Franklin was a respected man even many generations later.
Let's get back to the three input topics.
Did you know that there is a structure in the German-speaking world, which fees one normally gets as a trainer, advisor and speaker?
Well, exceptions always determine the rule, but the fees of the trainers, coaches, experts move in the majority in a framework of under € 1,000 to € 3,500 and only a few manage to break through € 5,000.
Self-employment, therefore, really also means always yourself and constantly to exchange time for money in order to achieve an acceptable annual income.
Then there is the category of advisors. They don't train so much, they just give advice, they have knowledge and experience that they pass on. It's more about support for self-empowerment. The fees range from € 5,000 to € 10,000 or even higher. Counselors can come from a variety of professions. They usually have a corresponding above-average performance themselves. Not only read. Also as a speaker, trainers and advisors achieve different fees.
And now for the personality. When someone is booked because of his personality, it is not about "training". It is also not about the knowledge and experience alone, but about something essential more: BEING! So even in Germany the fees are often € 25.000 and higher. Barak Obama gets today up to one million US dollars for an appearance. Of course, he has become known as president, but it is his personality that is paid so high. After all, the audience does not want to learn to be president, but to experience him, to learn from his personality.
To make the importance personality even more visible, I like to show the 5 stages of leadership by John Maxwell.
What follows is important, increasingly important for current leaders and those who want to be.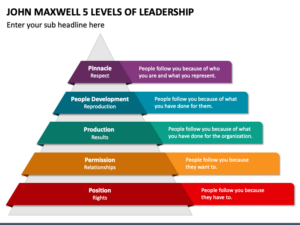 At the lowest level, people follow because they have to. The general, the boss has the power of command.

On the next level, it is because of the relationship with the people or subordinates. They follow because they want to.

On the third level, it is because of successes achieved for the organization. People follow because of achieved results and therefore trust. Gratitude can also play a role here.

On the fourth level, it becomes even more personal. People follow because the leader has done something for them personally. Here it can be enthusiasm, loyalty, but also gratitude.

And on the fifth and highest level, we are back to personality:


People follow because the personality is what it is.

They follow because the person represents something they themselves also aspire to or think is good, or they follow in times of uncertainty because they deeply trust.


And here you can clearly see what makes up the personality, and that if you want to be a top leader, you should develop into the fifth level personality.
This can take years. It took me decades to go through the 5 stages from when I opened my law firm (being the lowest level boss) to the top level. I had no mentor and went the hard way. For you, it can be faster and easier!


My main field of activity is not only to accompany clients on their way up, but to support them in making their personal transformation as fast as possible. You can't skip a level, but you don't have to stay on one for a long time. With proper guidance, it goes much faster, similar to elite sports.


If you are interested in people following you willingly and more easily, you want to achieve higher fees or company sales/profits and feel even more inner peace in the process, then feel free to contact me for individual personal guidance for a faster leap to the top:
So, now let's look again at the topics mentioned at the beginning:
What does the leadership personality look like who radiates sufficient wisdom, conveys security and who is willingly followed?

Did you know that personalities receive significantly higher fees than trainers, experts and advisors?

Why do personalities rest so within themselves?
It is now clear who people follow more easily. And this becomes particularly clear in times of upheaval, because even executives don't have a crystal ball to predict everything, and it is precisely then that those who are deeply trusted are followed.

The personality that is at peace with itself, lives authentically, lives simply from the inside, from the calmness. Similar to a tornado, there is deep calm inside the eye and great effectiveness outside. This is what distinguishes personalities. The inner clarity dissolves doubles and the unambiguity is lived.
And if you want higher daily rates or annual profits, then invest in your effective personality development (not just superficial belief changes), but a transformation to a new BEING. Even in sports, people talk about player personalities, which then also generate higher advertising revenues.


Isn't it true, you still feel a lot of room for improvement in yourself? So choose a quality that really brings you forwardand integrate it into your subconscious. It is not that you are able to do it, but that you are.